CARGO ONE
Unleash Future Boats GmbH is developing CargoOne, a truck on the water. We present a solution to the growing challenges of low water and logistic challenges. Of course, CargoOne is emission-free and also drives autonomously. With its size of around 55 ft (17 meters), it transports a 40-foot container safely to its destination.

CargoOne is in demand both for InPort logistics and the reliable connection between terminals and ports. In swarm mode, a CargoOnes fleet drives like a train on the waterways, resulting in extremely large quantities of goods being transported completely emission-free.
With CargoOne, the Digital Port Protocol (DPP) from Unleash Future Boats comes to live. Together with our partners, autonomous boats communicate with the fully digital port of the future. Secure communication between boats (Vessle-to-Vessle, V2V for short), but also between the infrastructure on land and on the water (Vessle-to-infrastructure, or V2X). Many abbreviations that are already known from autonomous driving on the road are now being introduced to the maritime sector.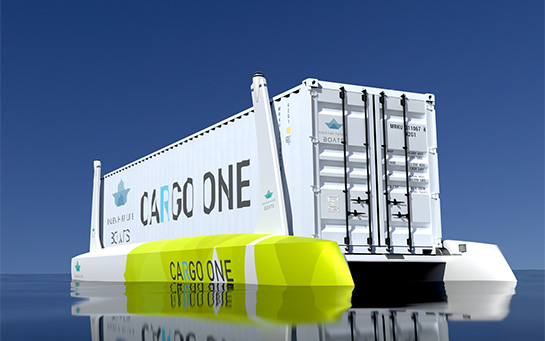 CARGO ONE
CargoOne is also designed as a catamaran. As in FutureOne, there is an independent drive train in every float. This makes the overall system redundant and fail-safe. The load is automatically secured and can be loaded using either a crane or a ramp. This facilitates the autonomous loading of goods and offers a wide range of possible uses.
CargoOne is also designed in a modular manner, as is known from the automotive industry. The boats are completely digital.
CargoOne is also produced in aluminum, also using our production partner's innovative robot welding process. Robots weld with high precision and economically, even in large numbers across different international locations. We have the specialist Ophardt Maritim at our side.